ImLive Sex Cam Overview: Everything About ImLive Webcams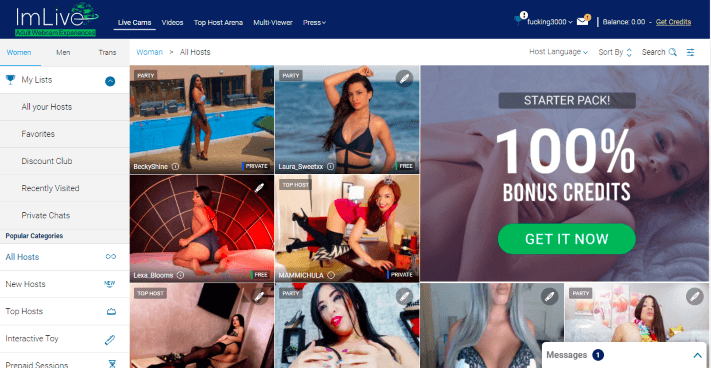 ImLive models are beauty defined, and they're also nymphomaniacs. The girls aren't the only thing drawing people towards the site though! It's impeccably well-designed and stuffed up to the brim with cool features which makes using the ImLive webcams a pleasing experience. Read on to dig deeper and explore the ImLive free sex chat!
| | |
| --- | --- |
| Website | imlive.com |
| Model Speaks | English, Español, Pyccĸий, Português, Italiano, हिन्दी, Castellano, Deutsch, Dutch, Français, Norsk, Svenska, Dansk, Greece, Turkish, Mexican, Arabic, Finnish, Japanese |
| Payments | Credit Card, Debit Card, PayPal, Cryptocurrencies, Gift Card, Discover, JCB |
| Phone | not offered |
| Email | [email protected]  |
| Mobile Friendly | Yes |
| Languages | English, Español, Pyccĸий, Português, Italiano, हिन्दी, Castellano, Deutsch, Dutch, Français, Norsk, Svenska, Dansk, Greece, Turkish, Mexican, Arabic, Finnish, Japanese |
Pricing:
| Tokens | Price | Discount |
| --- | --- | --- |
| 50 credits | $29.95 | |
| 100 credits | $58.95 | |
| 150 credits | $87.95 | |
| 200 credits | $114.95 | |
Private Shows: Starting at $0.98/Minute
ImLive sex chat site's features
ImLive is peppered with unique perks that make it attractive for thousands of users around the world. Let's overview some key services ImLive webcams provide!
Full Sex Mode
Full Sex Mode can be used by clicking on the Multiviewer tab at the top of the page. Opening this tab pulls up 6 random ImLive cam girls, so you can view them together. If you click on "Go to Full Sex Mode" and have the credits/treats for it, these ladies get pulled into a private room with you. Now, they're your personal harem waiting to do your bidding. They'll start talking dirty to each other and you, begin stripping and fucking themselves. It's like a virtual orgy, and you're at the center of it all.
ImLive Vocal
Are you turned on by audio stimulation more than anything else? ImLive vocal is for people who like getting whispered in the ear. You'll get to hear a sexy lady moan and talk dirty in your ear, instead of just watching it. Let your imagination run wild, assisted by a vixen's sultry voice.
Top Host Arena
This is the place to go to find the most popular ImLive cam girls. ImLive's Diamonds are the ladies who have been performing on ImLive for the longest time. The Best Newbies are the most popular newcomers. Hall Of Fame shows off the chicks who earned the most credits and is updated every two weeks. Party Winners are the winners of the themed weekend parties. It's the most reliable way to find the top models of the site.
Discount Club
Don't feel like dropping a wad of cash tonight? Use the Discount Club category to find ladies who are selling their services for cheap. These are girls trying to get more viewers, or just feel charitable. If you're really enjoying it, consider sending some tips their way. They'll make sure you know how much they appreciate it!
Categories/Filters

There are thousands of ImLive girls to browse, so finding only one perfect for you can be difficult. The categories and filters make finding the right chat room for you a menial task. You can pick from categories like college girls, BBW, bondage, and ebony among others. The filters let you adjust your parameters like show price, ethnicity, show type, appearance, age, and even hair color. Finding the right girl isn't like looking for a needle in a haystack anymore.
Facelift
ImLive's site used to look like it came from 2005, but they've spent the big bucks on remodeling. Their new website looks modern and sleek and has enough tidbits sprinkled in to help keep you occupied. The new design makes it much easier to find all the important parts of the site. No more hunting around the page to find what you want!
Different kinds of ImLive sex cam shows
ImLive has three different kinds of cam shows:
Public shows
These are the shows you see on the home page. Anyone can hop in and watch, and they're the cheapest of the bunch as you don't pay for watching until you desire yo tip an ImLive model. They're the most popular too.
Private shows
These are the paid one-on-one shows. They typically cost the most, but they're worth it for the level of intimacy and eroticism they provide. You'll be the sole center of attention for the cam girl, and she'll be at your beck and call. These private chats are just between you and her. So, there's no need to be asking "Is ImLive safe?" and worrying someone may interrupt you two.
Candy shows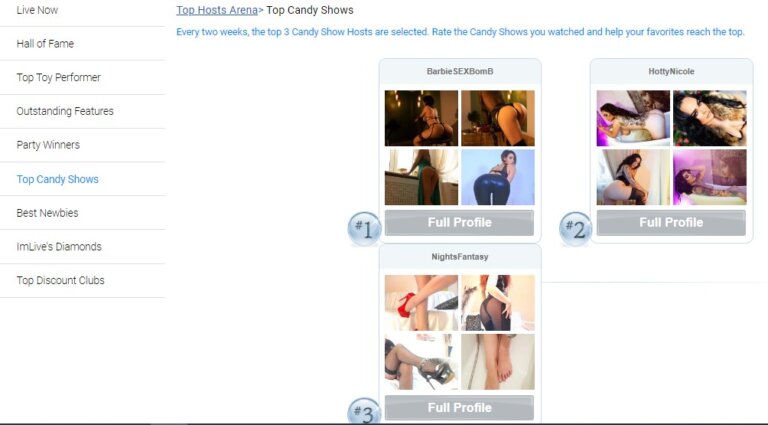 Candy shows are group shows, which are paid. cam girls set a target goal, and each member tries to contribute enough to reach the goal. If the goal is attained, the candy show starts, and everyone who contributed is pulled into that room. Those who didn't contribute are locked out. If you don't reach the goal, everyone's credits are refunded.
How does ImLive's currency work?
Credits are straightforward on ImLive. It's a 1:1 exchange rate, meaning paying $1 gets you 1 credit.
ImLive also uses treats as a type of currency. You can get treats as part of giveaways and holiday gifts. The exchange rate of treats to credits is 10:1. You can use 10 treats to buy 1 credit, or you can use treats to purchase videos recorded by cam girls or avail the "Full Sex Mode".
Can you use an ImLive mobile app?
ImLive doesn't have its own mobile app. If you wanna watch cam chicks on your smartphone, your best bet is to launch the mobile site on your phone's browser. Despite not having an app, the site is extremely optimized and can handle anything you throw at it. Your cam chick viewings won't be impacted by using a phone instead of a computer!
Is ImLive a scam?
The ImLive platform is kept secure using SSL encryption, which makes sure your account data isn't leaked. Purchases are made through a third party. This is also encrypted and prevents your card details/bank credentials from being exposed.
On ImLive, the adult webcam models are vetted to ensure they are authentic and of legal age. If you make a purchase by mistake, you can contest it through your bank, and have that amount returned to you. The site is completely centered around giving you the ideal experience, and a scam isn't part of that experience.
Are there any sites like ImLive that do it better?
ImLive's a gem you should start taking advantage of. It has the ladies and the facilities to make finding the best ones for you easy. There are good features that only enhance the experience. Visit ImLive webcams, and you'll be in for a world of back-to-back orgasms.